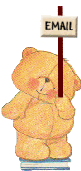 ęCopyright 2001-2003 by Althea Lau - All rights reserved
Javascripts taken from Javascriptsource &
DynamicDrive
Guestbook courtesy of htmlGEAR
What I remember about the Care Bears:
The Care Bears are an 80's show. I was quite young then, so I can't remember much, but I do remember what much this cartoon taught me: To love, care and share.
There are a number of bears groups. In Singapore, they only aired episodes consisting of the Care Bears, and the Care Bear cousins. Or so as I can recall.
Without further ado, here are the Care Bears:
Original 16 Care Bears:

TenderHeart Bear
Colour: Brown
Symbol: Red Heart
Trait: Tenderheart is a true friend. He cares deeply for everyone and listens carefully to any of your problems. When ever you need a hug or need to know that someone cares, Tenderheart will be there for you. He understands that sometimes people feel lonely and needs help to express their feelings and he does his best in making you feel good so those feelings fade away and only love and tenderness remains.

Funshine Bear
Colour: Bright Yellow
Symbol: Smiley Sun
Trait: Ever have those days when things don't feel right? Well, Funshine is here to help! She has a bright outlook on everything and will help you see how bright and sunny the day is so all those gloomy thoughts will disappear -- even when it's a cloudy day!

Grumpy Bear
Colour: Grey Blue
Symbol: Raincloud with hearts as raindrops
Trait:Grumpy completely understands when you have a bad day and things aren't going you're way. It just seems like everything is piling up on you and there's nothing you can do but get mad. But never fear, Grumpy totally understands. He's here to listen to you and have a good grump-- everyone needs to have a grump sometime! Sticking with Grumpy will make you feel so much better than bottling those bad emotions inside.

Love-a-Lot
Colour: Pure Pink
Symbol: Twin hearts, pink and red with gold border
Trait: "Love makes the world go round..." that's what Love-a-Lot likes to think! She knows that there is a special someone you care about and she helps you find them! She knows how good it feels to be loved by another and spreads love around so everyone feels good about themselves everyday with love by their side.

Birthday Bear
Colour: Light Mustard Yellow
Symbol: Cupcake with a lighted candle
Trait: Birthday Bear loves celebrations -- but he especially loves Birthday Parties! Birthday Bear knows that your birthday is a very special day in your life because you are a very special person. He will never let a year go by without you have the most wonderful birthday.

Cheer Bear
(My favourite bear)
Colour: Pale Pink
Symbol: Rainbow
Trait: Hey! Are you frowning? No, don't! Cheer Bear is the most cheery bear and Care-a-Lot and will help you turn those frowns upside down! She loves to smile and loves to see a world full of smiles. Cheer Bear will always be there for you on tough days and will welcome you with something bright that will definetly make you smile too.

Bedtime Bear
Colour: Blue
Symbol: Crescent moon with hanging star
Trait: Why is Bedtime Bear always asleep? Don't think that he's a lazy bear, he's not! Bedtime works very hard when all the other bears are asleep -- and you too! He keeps an eye out at night to make sure you are safe from nightmares and scarey mosters that live under you're bed. And in all that time, he also takes care of his fellow bears as they sleep to take care of you during the day.

Wish Bear
Colour: Green-Blue
Symbol: Shooting stars
Trait: See that star in the sky? Wish on it and someday your dreams will come true. Wish Bear believes that everyone deserves what they wish for, and helps you obtain that dream. He knows that everyone works hard and he wants to see you smile by helping you get closer to that reward.

Good Luck Bear
Colour: Green
Symbol: Clover leaf
Trait:Everyday can be your lucky day with Good Luck Bear by your side! Good Luck likes to believe that everyday is your lucky day. Being like Good Luck keeps your spirits high, never believe that it's a bad day-- because it just might be the luckiest day of your life!

Friend Bear
Colour: Peachy-orange
Symbol: Two flowers
Trait: Having friends always makes the event a whole bunch better. Friend Bear loves to make friends and he would love to be yours! Friend Bear makes things fun because two heads are always better than one!

Grams Bear
Colour: Grey
Symbol: Roses with ribbons
Trait: Grams Bear loves all of her little Care Bears and cares for everything that they do. When they are out helping you out, Grams is worried about them like every other Grandmother! But Grams cares for everyone out there including you! If you ever need someone to cuddle with and share those warm "grandma" moments with, Grams is there for you!

Baby Tugs Bear
Colour: Baby Blue
Symbol: Star in diaper
Trait: Don't ever say that Baby Tugs Bear is a Baby! He's a tough little bear and he knows it! He wants to grow up fast so he can care for kids just like the older bears. He knows how hard it is to be the small one, but he sure packs a lot of love. He spends much of his time looking after his little sister Baby Hugs Bear who is cheery all the way.

Baby Hugs Bear
Colour: Baby Pink
Symbol: Star in opened heart
Trait: Everyone needs a hug sometime! Baby Hugs Bear loves to give people hugs because they make her feel terrific! She also can't wait to grow up so she can work along side the other Care Bears, and spends much of her time with her "big" brother Baby Tugs Bear.

Champ Bear
Colour: Gold
Symbol: Trophy with heart
Trait: Champ Bear is a real good sport. He knows that winning a game sure makes you feel good, but there are also those times when you don't win. He's great when it comes to understanding things under pressure and knows that even if you lose, keep trying -- because that makes you feel and look like a champ!

Secret Bear
Colour: Golden Orange
Symbol: Heart-shaped lock
Trait: Shhh....!! Do you have a secret? Don't worry, you can trust Secret Bear! He's really good at keeping all of your secrets and won't tell anyone! It's just between you and him, he knows how important some secrets can be!

Share Bear
Colour: Purple
Symbol: Milkshake with 2 straws and hearts
Trait: Share Bear loves to share and would give you the symbol right off her tummy if she could! Sharing things are very important to Share Bear because it shows how much she cares about you!
6 Care Bear Cousins:

Brave Heart Lion
Colour: Brown
Symbol: Heart with a Crown
Trait:Was there ever a time that you felt that you had no courage at all? Brave Heart Lion knows. He is known for how brave he is, and he wants to let you know that there is nothing to fear at all. Whenever he is around, he does his best to help you find your inner strength. As he always says, "Think with a happy heart" so that way you can be brave always!

Swift Heart Rabbit
Colour: Blue
Symbol: Heart with wings
Trait: Never be lazy, that's Swift Heart Rabbit's motto! Swift Heart helps you get organized and ready in no time! No short cuts either!! He never lets you waste time so there's no need for short cuts! Doing things the best way is what Swift Heart believes in.

Bright Heart Raccoon
Colour: Purple
Symbol: Heart-shaped light bulb
Trait: Got a problem and can't think of the answer? Bright Heart Raccoon is here to help! He has a great personality and can think for hours. With the both of you thinking, you will surely get the answer. Bright loves to think!

Gentle Heart Lamb
Colour: Light green
Symbol: Heart with lace border
Trait: Gentle Heart Lamb knows exactly how it is to be the shy one sometimes. She's really shy herself! But because she is so shy doesn't mean she doesn't care. Gentle Heart Lamb has a huge soft heart and is very friendly. Whenever you need a friend, Gentle Heart will always be there for you to listen and give you comfort.

Lotsa Heart Elephant
Colour: Pink
Symbol: Ton with Heart on it
Trait: Lotsa Heart is the tough guy! Not to say he's only muscles, but he has such a big heart! He loves to lend a helping hand in any situation. If you're feeling down and need someone to pick you up and make you smile, be sure that Lotsa Heart will be right behind you.

Cozy Heart Penguin
Colour: Purple
Symbol: Heart with snow cap
Trait: Cozy Heart wants to make you feel welcome, warm, and well --- cozy!! He loves to play and have fun, anything to make anyone who feels lonely comfortable.
Information and images taken from: Clover's Care Bear Corner

Please vote for me: