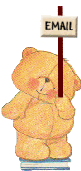 ©Copyright 2001-2003 by Althea Lau - All rights reserved
Javascripts taken from Javascriptsource &
DynamicDrive
Guestbook courtesy of htmlGEAR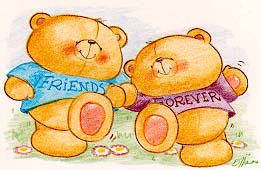 Forever Friends History:
For over 12 years Forever Friends have been keeping people in touch across the world through the thousands of pieces of artwork Deborah Jones has produced during this time..
Forever Friends has become one of the best-selling greeting cards collections with an astonishing 600 million cards sold in the last decade!
There are currently 150 Forever Friends licensees world wide producing more than 2,000 different products!
What started as Deborah's hobby has developed into the most famous and successful range in the world, and the rest, as they say, is history…
Dateline:
| | |
| --- | --- |
| | 1987 ~ the first Forever Friends cards were launched in this year as part of a range called Pioneers. |
| | 1989 ~ this was the year that the Forever Friends Gifts & Licensing programme was developed. |
| | 1992 ~ due to the demand the Forever Friends Club was established. |
| | 1996 ~ Deborah introduces a new friend for the bear - Goose! |
| | 1997 ~ was the 10th Anniversary year and for this a special Forever Friends card range was launched in celebration. It was also the year that the Between Friends range was launched. |
| | 1998 ~ this launch of Forever Friends hand-crafted for Everyday sending situations and Christmas. |
| | 1999 ~ the launch of the Forever Friends Primaries Range which included Valentine designs for the 14th of February. |
| | 1999 ~ in June, the Forever Friends Website was re-launched. |
| | 2000 ~ A new range called Blanc was launched. |
Information & images taken from: The Official Forever Friends Site

Please vote for me: