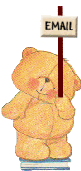 ©Copyright 2001-2003 by Althea Lau - All rights reserved
Javascripts taken from Javascriptsource &
DynamicDrive
Guestbook courtesy of htmlGEAR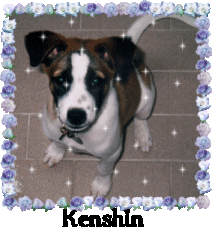 Kenshin came to me on 7 November 2001. I was studying for my exams when my aunt told me she had found 2 abandoned puppies at the market. She asked me if I wanted to adopt, and at first I wasn't very sure.
I guess the puppies must have been on her mind as she went back to see them. One of them was adopted by one of the shop owners while she brought the other (Kenshin) back home.
The moment I saw him, my heart melted. He was so positively cute and very pitiful for he had suffered a number of injuries when he was out fending for himself. I decided I had to keep him, no matter what! I just didn't want an innocent puppy to get abused again!
Well, he's been with me for more than a month now, and his injuries have healed. He has since settled down and grown a lot bigger. A wonderful and loving puppy, he really loves the attention showered on him. He enjoys the pampering my parents and I give him, but at the same time, he pampers us back with loads of licks and hugs.
Why the name Kenshin? Well, I decided to name him Kenshin after watching the Japanese anime, Ruroni Kenshin (also known as Samurai X). In the show, this character is a wandering samurai who finds a home and friends. Kenshin is also rather like him, for he used to be a stray, but now he's found a home with people who love him.
To Kenshin's previous owner, whoever you are, I'd just like to tell you that you have made the wrong decision of abandoning the most wonderful and loving companion. If you can be so heartless as to abandon a 3-month-old puppy, then I feel Kenshin is so much better off without you. He may not be pure-bred, but he will be loved all the same.
This page is just for Kenshin, who has brought so much more joy and laughter into my home ever since he came into my life, and to my parents who have been exceptionally understanding and allowed me to keep Kenshin.
Here are some photos of Kenshin:


Free counters provided by Andale.

Background music: Truly Madly Deeply
Please vote for me: