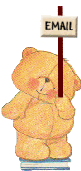 ęCopyright 2001-2003 by Althea Lau - All rights reserved
Javascripts taken from Javascriptsource &
DynamicDrive
Guestbook courtesy of htmlGEAR
I decided to start my own quilt pages after being inspired by a special friend, Andrea. I think quilts are special and they help spread messages across the Net, so I do hope you will help me in my little quest.
This is my very first quilt patch from Andrea.

It may seem a little ambitious, but I do have messages I want to send out. So I'll be attempting to make three quilts.


My Friendship Quilt
~ To promote peace and harmony; we are all human beings regardless of religion or race!



Breast Cancer Awareness Quilt
~ Dedicated to my Aunt Yong (affectionately called Yong Ee) who is bravely fighting this disease.



Stop Animal Abuse Quilt
~ Dedicated to my puppy, Kenshin, a stray I adopted, who was abandoned and abused.


If you would like to contribute to any of my quilts, please email me your quilt patch (which should measure 130 x 130) together with your name and site URL. If you would like to add my quilt patches to your quilt, feel free to click on each of them. A new window will open, and you can save them by right-clicking on the image and choosing the option "Save As...".
Please link my quilt patches back to me at:
http://www.geocities.com/faune98


Free counters provided by Andale.

Background music: Hero
Please vote for me: