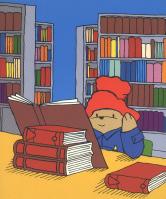 About Paddington Bear:
'Mr. and Mrs. Brown first met Paddington on a railway platform. In fact, that was how he came to have such an unusual name for a bear, for Paddington was the name of the station.'
These are the opening words of "A Bear Called Paddington", which was the very first book written by Michael Bond.
The story goes on to tell how Paddington arrived in England from Darkest Peru after stowing away in a ship's life boat. He had been sent out into the world by his Aunt Lucy who had gone to live in the Home for Retired Bears in Lima.
When Mr. and Mrs. Brown first saw him he was sitting on an old leather suitcase, behind some mail bags, near the Lost Property Office. He was wearing an old and rather shapeless hat and had a label tied around his neck which read: PLEASE LOOK AFTER THIS BEAR. THANK YOU.
Unable to resist such a simple request, Mr. and Mrs. Brown took him home with them to number 32 Windsor Gardens in London, where he now lives, along with their two children, Jonathan and Judy and their housekeeper, Mrs. Bird.
Paddington's closest friend and mentor is Mr. Gruber, who runs an antiques shop in nearby Portobello Road. Paddington visits him most days and they can usually be found at elevenses time, discussing life over some buns and cocoa.
Paddington gets on very well with most people, apart from the Brown's bad-tempered neighbour, Mr. Curry, who is always wanting something for nothing - and usually deserves what he ends up getting!
Endowed with a strong sense of right and wrong, Paddington always starts on with the best of intentions, but things don't always go according to his plans. However, although he often gets himself into disastrous situations, Paddington has a happy knack of coming out on top in the end and, more often than not, someone benefits from his misadventures.
Apart from his hat and the duffle coat which he acquired soon after going to live with the Browns, Paddington is rarely parted from his suitcase. It has a secret compartment where he keeps all his important papers, and of course, there is also room for a jar of his favourite marmalade. As any true Paddington fan will know, this is a very important ingredient in his life and has got him out of (and into!) many sticky situations.
At the end of most days, Paddington can be found sitting up in bed, documenting his latest adventure in his scrapbook or writing all about it on a postcard to his Aunt Lucy in Peru.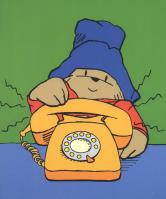 Paddington Bear's Biodata:
Name: Paddington Brown
Age: Will not reveal
Transportation Method: Shopping Basket on Wheels
Favourite Soap: Bubble Bath Mixture
Favourite TV Programme: Weather Forecast
First job: Painting his room (Also his last job)
Favourite Movie Star: The dog in Tom & Jerry cartoons
Favourite Royal: Royal Honey
Self-description: Tall, dark, handsome, good imagination
Clothes worn to bed: Pyjamas, with a hat during winter
All-time hero/heroine: Tarzan
Most disgusting habit: Getting marmalade chunks stuck to everything
Greatest love: Marmalade
Favourite Colour: Orange
Most expensive treat bought for himself: Triple ice cream cone with double chocolate sauce
Last time hospitalised: Last Christmas, after testing out a boomerang
Where else in the world he would live: Darkest Peru
Dream dinner guests: The Roux brothers
Untidiest part of the house: Kitchen, after he looked for something to eat
How he relaxes: Through doing a lot of press-ups, then lying down where he is till he recovers
Last angry: When Mr. Brown was told he couldn't go into a restaurant coz it was closed for lunch.
Paddington Bear's author: Michael Bond
Information taken from: The official Paddington Bear site
Images taken from: Teddybear NL: Paddington Bear Homepage