Winnie the Pooh's History: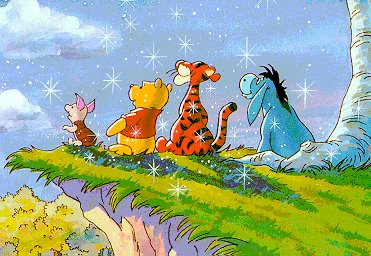 Lieutenant Harry Colebourn purchased a black Canadian bear cub when he stopped at White River Ontario on the way to the first world war. He named her Winnipeg after his home town.
When his regiment was called to fight, Lieutenant Colebourn left Winnipeg in the care of London Zoo. In 1919 he returned to Canada leaving Winnipeg in the care of the London Zoo, where she died on March 12th, 1934.
A.A. Milne (author of Winnie the Pooh), often took his son Christopher Robin on trips to London Zoo. The small boy was very fond of the bear. It was thought that Christopher Robin named his bear Winnie after Winnipeg.
How Pooh started:
Alan Alexander Milne was born in Hampstead, London on 18 January 1882. He entered Henley House school in September 1888 and won a scholarship in 1893 to Westminster. He then progressed to Trinity College, Cambridge in 1900. There, he became editor of "Granta", an undergraduate magazine, and in 1906, he became assistant editor of "Punch", a satirical magazine.
He started writing a collection of children's poems including his famous "vespers" which were written as a gift to his wife. E.H. Shepard provided the illustrations and on November 6, 1924, "When We Were Young" was published. It was dedicated to his son, Christopher Robin.
In 1925, Milne wrote a Christmas story for the Evening News "a New Story for Children: Winnie the Pooh about Christopher Robin and his Teddy Bear." This is where Pooh made his first appearance. Winnie the Pooh was published in London on October 14, 1926 and Winnie the Pooh and his friends were born.
How Pooh came to life:
Ernest Howard Shepard brought Winnie the Pooh and Friends to life with enchanting and captivating drawings. He was born on December 10, 1879, in St John's Wood, London.
He attended the Church of England school in Baker Street. At 13, he started school at St. Pauls, and began a course at Heartherley School of Fine Art after leaving St. Pauls. He did so well that he won a scholarship to the Royal Academy where he began in 1897.
In 1921, he was invited to become a member of Punch and he accepted. During one of his meetings, he was asked to illustrate some children's verses written by A. A. Milne. He and Milne spent many hours together in Ashdown Forest, where the stories took place. His partnership with Milne produced 2 children's books of verses, and 2 Winnie the Pooh books, which are now famous throughout the world.
Information adapted from: Gills Lap
Pooh's Favourites: